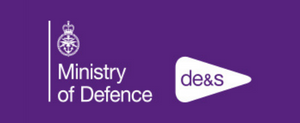 We're Defence Equipment & Support (DE&S), we protect and provide for the UK's armed forces, all over the world. From the newest protective clothing for those on the front line. Smarter tech for radar systems. Safer vehicles for land, sea, air. DE&S ensure that every individual in the UK military is fully equipped and protected, as they protect life both at home and overseas. Everything we do helps to protect the people who protect the nation, wherever they are in the world. It's what drives and unites each and every one of us. It's a purpose we're incredibly proud of. And it's why our work is vital: it impacts the UK's security, stability and prosperity.
As you'd imagine, it takes all kinds of expertise, from Engineering to Business Management, to make that happen.

On a DE&S apprenticeship or graduate scheme you'll find a wealth of opportunities to learn and grow doing what you're passionate about. And what sets us apart is the focus we'll give you. With us, you'll find real support to reach your potential – so you can become a leader in your field.
So, whatever your niche, with DE&S you'll find support to kick start your career and plenty of room to grow as you build your skills and experience every day. 
We offer unique apprenticeship schemes in Engineering, Finance and Accounting, Project Management, Corporate Services, Integrated Logistics and IM/IT.
Our schemes offer: 
Great rewards in a diverse and inclusive environment where results are recognised. 
Tailored support throughout your role from a dedicated management team who have a genuine interest in helping you develop and succeed. 

A permanent role on successful completion.