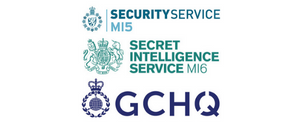 At the UK intelligence services (MI5, MI6 and GCHQ), it's our role to keep everyone in the UK safe and secure and protect UK interests overseas. The only way to achieve this is by having a truly diverse workforce across all our roles.
That includes apprenticeships, internships, graduate schemes and other entry-level jobs. Each of the UK's intelligence services have a slightly different mission. But we all work together with one aim – to keep everyone in the UK safe and secure. We do this by protecting the UK from threats to national security through gathering intelligence and working closely with our partners.
We don't just work in the UK though; we protect the UK's interests overseas too by working with our foreign partners to support global stability. We also use cutting-edge technology to protect the UK in the real world and online by identifying, analysing and stopping online threats. That's why our work and our people really matter. Making an application for the agencies starts on our official websites.
When you join the UK intelligence services you join a community of people who support each other to continually learn and achieve our full potential, whichever role you joined.
We've got lots of opportunities for lots of different people and that includes school leavers from the age of 18. We're committed to making sure everyone can achieve their full potential. With excellent training and development, we'll support you to achieve your career aspirations and develop a broad range of professional skills. View our school brochure to find out more: https://view.pagetiger.com/intelligenceservices
I'm Mia and I am currently a technical analyst at GCHQ on the Cyber First Apprenticeship Scheme, my role involves analysing large datasets and conducting analysis on technical data. For A-levels I studied Maths, Physics and Economics and for University I studied a Cyber Security Degree.
I think the main thing that has got me to where I am today is just being open to opportunities.
In school I always gave everything a try, even if it was slightly out of my comfort zone. I never had a massive understanding about Cyber Security but then in Year 10 I decided to go on a course to find out what it was about, and how it works and from that point I realised it was something I wanted to spend more time learning about.
The thing I enjoy most about my role is the fact that I get to work on some cool projects that help safeguard the UK. Also, the fact that I get to work with a wide variety of people, all of which are always willing to help and talk about what they do. One of the main challenges of the role is the fact that Cyber Security is constantly developing day by day, so my knowledge and thinking is constantly being challenged alongside it. It is quite a good challenge as it means that I am never bored and learning it is very interesting, especially when you can apply the learning to a real work problem!
Some advice from me to young people starting out in the industry is that it's okay to not know what you want to do later in life. When I was at school there was always a big pressure of you should know what you want to do, and if you don't, you're doing something wrong. I found that all my friends that did have an idea of what they wanted to do, actually went on to do something completely different, so it's okay to not know! The best thing to do is give everything a go, even if you're not sure what it is!