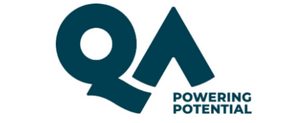 We are the UK's leading tech and digital apprenticeship training provider. Whether you're finishing school or college, want to change career paths or upskill and develop your skills, an apprenticeship with QA is your route into the UK's growing tech industry.
Proudly inclusive and hands-on, our apprenticeships have empowered over 30,000 people to shape their futures and transform their careers by securing them access to the most powerful learning network in the UK.
As an apprentice with QA you'll, develop your technical skillset, gain a recognised qualification and earn a salary with a top UK employer. We've placed our apprentices with brands, including Vodafone, Royal Mail, Barclays and O2 – and you could be next.
Meet Roberta Baah – Compliance Officer at The Financial Times
From Level 3 to Bachelor's degree
Roberta is a QA apprenticeship all-star – she started her journey as an IT Level 3 apprentice working on the IT service desk at the Financial Times (FT), went on to complete a Level 4 within 18 months and then began her Bachelor's degree apprenticeship (Levels 5 and 6) in Digital and Technology Solutions. In 2019 she graduated with a 2:1 BSc in partnership with the University of Roehampton and was promoted to a new role in the IT Compliance Team. She's currently working as a IT Compliance Officer in the Cyber Security team.
Read more about Roberta's story and other presenters here.