The RAF has around 28000 members who contribute to 15 missions on 4 continents in 22 countries. Whether in the skies above Britain, or in airspace around the world, it is our job to protect the UK. Our cutting-edge technology enables us to rapidly respond to any threat identified through intelligence gathering and surveillance operations. The RAF are ready to provide urgent assistance in an emergency, from floods in the UK, to the Ebola outbreak in Africa and devastating hurricanes in the Caribbean.
The RAF is made up of impressive personnel from diverse backgrounds, working side-by-side as part of a team to make a difference. When it comes to recruitment our focus is on attracting the best personnel and ensuring they are taken care of during and after their service. To fulfil our mission, we need highly skilled people throughout our organisation; we'll provide you with training and develop you to ensure you have the skills and confidence you need to enjoy a successful and challenging career.The RAF recognises the value of a person's ability no matter their ethnicity, nationality, national origins, social background, religion or belief, gender identity, sexual orientation or marital status or civil partnership. We believe the talents and skills of individuals from different groups make for a more efficient RAF.

The RAF is looking for people whose core values sit with ours:
Respect, Integrity, Service, Excellence
as they are an integral part of everything we do.
We currently have 23 roles to choose from that come with RAF apprenticeships rated Outstanding by Ofsted. They are available in a broad and diverse range of careers including aviation operations, engineering, hospitality & catering and IT.
To gain an apprenticeship in the RAF you still need to meet all of the entry requirements for whichever role it is for and get through all stages of the application process. You will gain the apprenticeship as part of your phase two training, in total the process of gaining your apprenticeship can last 1 year to 3 years of training.
The range of qualifications you can earn in the RAF range from a level 2 (equivalent to 5 GCSEs), a level 3 (equivalent to 2 'A' levels) all the way through to a level 7, which is equivalent to a Masters degree.
Nationally recognised as the UK's top major apprenticeship employer – Macro Employer of the Year in the 2017 National Apprenticeship Awards and Ofsted Outstanding Training Provider.
The RAF has won 10th place in the 2020 Top 100 Apprenticeship Employers Award.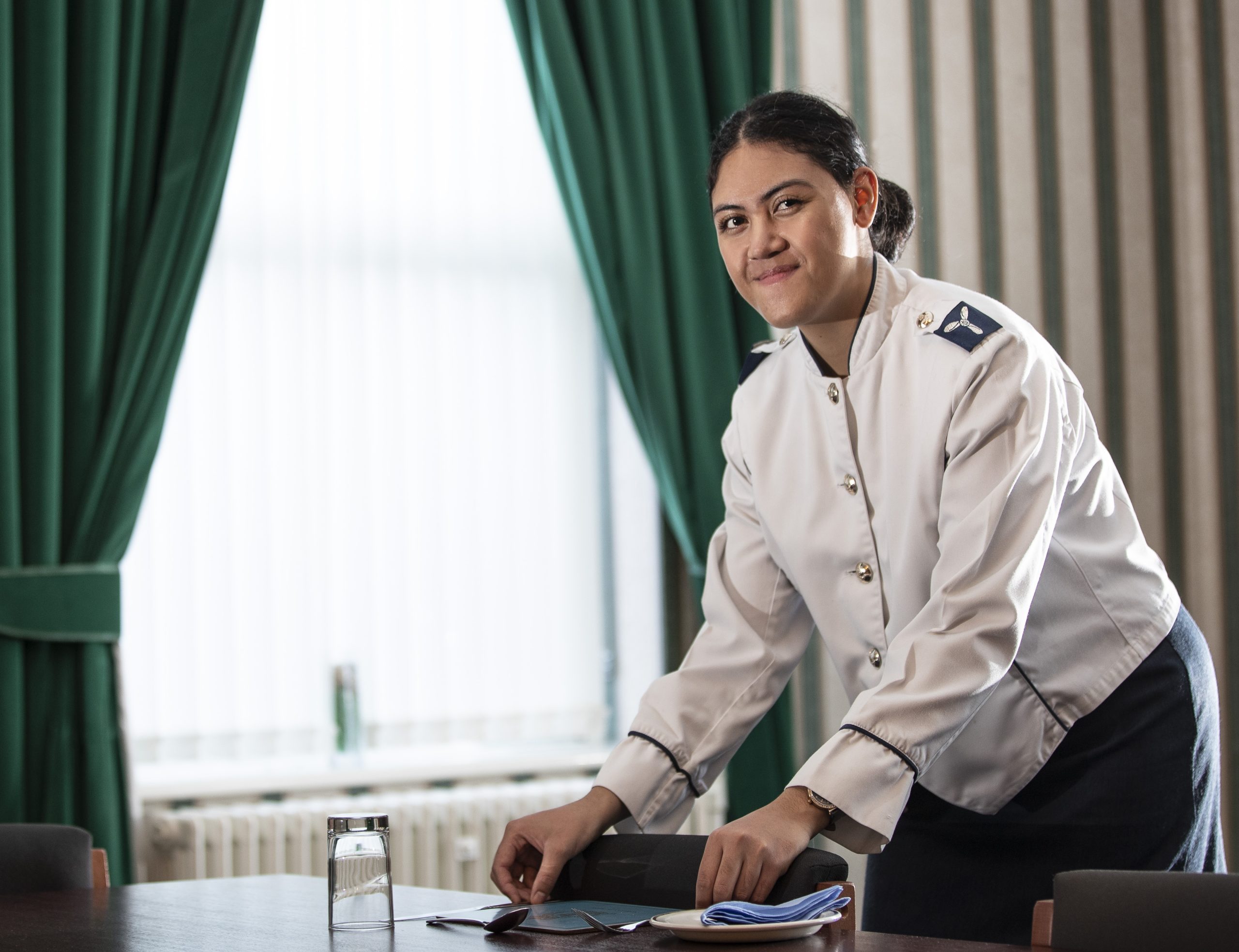 Chelsea Wong – Logistics Air Ground Steward
I began my apprenticeship with the RAF in 2018; the whole concept of learning on the job and getting paid to learn really appealed to me and I was confident I would have a stable and successful career within the RAF upon completion of my apprenticeship. The apprenticeship consisted of various components such as being tasked to deliver a wide range of Mess functions and formal events (both routine and VIP) for over 300 guests to running a bar independently and confidently. During this time, I learnt the importance of being efficient and organized as well as how to perform well when working under pressure. I successfully completed my Level 2 NVQ in Food & Beverage Service in 2019; and having been trained to incredibly high standards this essentially meant that I was qualified to work in any catering establishment or sector of hospitality.
In 2020, I was nominated and selected as the Air & Ground Steward Apprentice of the Year 2020. The criteria required for this award encompassed multiple elements such as professionalism, personal development, teamwork and dedication to name a few. This achievement has been nothing short of incredible and I am very proud to have achieved such an honourable milestone this early on in my career. I would highly encourage anyone who is considering pursuing an apprenticeship within the RAF to grasp this amazing opportunity and run with it. The training received is exceptional and the benefits and rewards opens up a whole new world of opportunities beyond your apprenticeship.